Episode 2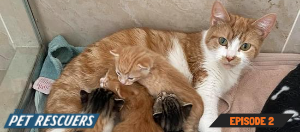 Four-month old Staffy Arlo falls in love with a Rottweiler and finds his forever home. On a mission to prove that the dog is never the problem, behaviourist Laura teaches Ziggy's owner Dawn some new tricks. A pregnant stray cat called Cinnamon camps out in Marisa's shower stall
Click the image above to watch Episode 2 on 9NOW.
Episode 3
Timmy the cat works his charms on an adopter, who takes his feline obsession to the next level. Arlo the Staffy returns for a vet visit. Who knew ingrown eyelashes were a thing? Wildlife Rescuer Xavier brings Rodney the Tawny Frogmouth in for a vet check.
Click the image above to watch Episode 3 on 9NOW.
Episode 17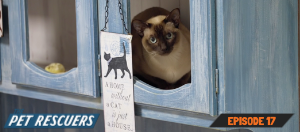 Marisa arrives at the shelter with 11 puppies, two cats and seven kittens, and that's just from one household. We try to find long-term resident, Doris the cat, a home, while revisiting our mischievous Tonkinese sisters. And finally, will the heritage of Holly's foster pup, Sir Lexington, be revealed?
Click the image above to watch Episode 17 on 9NOW.
Episode 18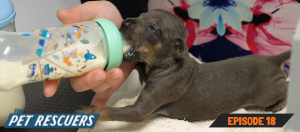 Laura V finds Bear the Deerhound well on the way to becoming gentle as a lamb. Then, sweet little Xena the pup returns, and her fondness for cream cheese is a blessing in the battle to bandage her front legs! Three tiny foster pups are examined for ringworm, and Xavier's baby barn owl tests wings!
Click the image above to watch Episode 18 on 9NOW.
Episode 19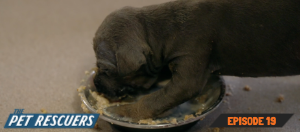 Xavier rescues another native wild animal from a local caravan park as our three little pups make a giant mess of feeding time! Then it's an emotional moment for Xena the wobbly puppy as she meets her prospective new parents! And will our long time resident, senior kitty, Doris FINALLY meet that special someone?
Click the image above to watch Episode 19 on 9NOW.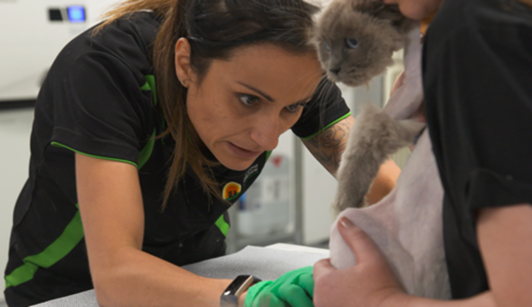 A new homegrown TV series brings the warm and furries to Saturday afternoons on Nine
Now airing on Channel 9, Tuesdays at 1PM AEST, The Pet Rescuers offers a perfectly timed boost to flagging morale. This 10-part doco series promises to melt hearts, raise spirits and restore faith in humanity as it follows the daily adventures of a team on a mission to give abandoned pets a second chance at a happy life.
"Each year in Australia, a quarter of a million dogs and cats are put down, due to overcrowded pounds and shelters", says Marisa Debattista, who leads the team at Second Chance Animal Rescue (SCAR) in Melbourne. "It's a tragic cycle that we're determined to end."
While The Pet Rescuers title may seem to refer to the humans in the story, SCAR member Megan insists it could be read another way. "I think animals are much more resilient than we are," she explains. "As long as they're loved, as long as there's food, animals bounce back so quickly. They teach us so much about survival, sometimes it feels as though they are actually rescuing us."
The Pet Rescuers now airs on Channel 9, Tuesdays at 1PM AEST.